Product Description
Stainless Steel Plastic Roller Chain Gear Platewheel Engineer Class Agricultural Pintle Cast Iron Weld On Hub Finished Bore Idler Bushing Taper Lock Qd Sprocket
European standard sprockets

DIN stock bore sprockets & plateheels

03B-1 04B-1 05B-1-2 06B-1-2-3 081B-1 083B-1/084B-1 085B-1 086B-1 08B-1-2-3 10B-1-2-3 12B-1-2-3 16B-1-2-3 20B-1-2-3 24B-1-2-3
28B-1-2-3 32B-1-2-3

03A-1 04A-1 05A-1-2 06A-1-2-3 081A-1 083A-1/084A-1 085A-1 086A-1 08A-1-2-3 10A-1-2-3 12A-1-2-3 16A-1-2-3 20A-1-2-3 24A-1-2-3
28A-1-2-3 32A-1-2-3

DIN finished bore sprockets

06B-1 08B-1 10B-1 12B-1 16B-1 20B-1

stainless steel sprockets

06B-1 08B-1 10B-1 12B-1 16B-1

taper bore sprockets

3/8″×7/32″ 1/2″×5/16″ 5/8″×3/8″ 3/4″×7/16″ 1″×17.02mm 1 1/4″×3/4″

cast iron sprockets

06B-1-2-3 081B-1 083B-1/084B-1 085B-1 086B-1 08B-1-2-3 10B-1-2-3 12B-1-2-3 16B-1-2-3 20B-1-2-3 24B-1-2-3

platewheels for conveyor chain

20×16mm 30×17.02mm P50 P75 P100

table top wheels

P38.1

idler sprockets with ball bearing

8×1/8″ 3/8″×7/32″ 1/2″×1/8″ 1/2″×3/16″ 1/2″×5/16″ 5/8″×3/8″ 5/8″×3/8″ 5/8″×3/8″ 3/4″×7/16″ 3/4″×7/16″ 1″×17.02mm 1 1/4″×3/4″

double simplex sprockets

06B-1 08B-1 10B-1 12B-1 16B-1

American standard sprockets

ASA stock bore sprockets

-2 35-3 -2 40-3 50 50-2-50-3 60 60-2 60-3 80-80-2 80-3 100 100-2 100-3 120 120-2 120-3 140 140-2 160 160-2 180 200
200-2 240

finished bore sprockets

stainless steel sprockets

60

double single sprockets&single type Csprockets

taper bore sprockets

35 35-2 -2 50 50-2 60 60-2 80 80-2

double pitch sprockets

2040/2042 2050/2052 2060/2062 2080/2082

sprockets with split taper bushings

40-2 40-3 50 50-2 50-3 60 60-2 60-3 80 80-2 80-3 100 100-2 120 120-2

sprockets with QD bushings

35 35-1 35-2 -2 40-3 50 50-2 50-3 60 60-2 60-3 80 80-2 80-3 100 100-2 100-3

Japan standard sprockets

JIS stock sprockets

140 160

finished bore sprockets

FB25B FB35B FB40B FB50B FB60B FB80B FB100B FB120B

double single sprockets

40SD 50SD 60SD 80SD 100SD

double pitch sprockets

speed-ratio sprockets

C3B9N C3B10N C4B10N C4B11 C4B12 C5B10N C5B11 C5B12N C6B10N C6B11 C6B12

idler sprockets

35BB20H 40BB17H 40BB18H 50BB15H 50BB17H 60BB13H 60BB15H 80BB12H

table top sprockets

P38.1
| | |
| --- | --- |
| Material available | Low carbon steel, C45, 20CrMnTi, 42CrMo, 40Cr, stainless steel. Can be adapted regarding customer requirements. |
| Surface treatment | Blacking, galvanization, chroming, electrophoresis, color painting, … |
| Heat treatment | High frequency quenching heat treatment, hardened teeth, carbonizing, nitride, … |
Customization process
1.Provide documentation:CAD, DWG, DXF, PDF,3D model ,STEP, IGS, PRT
2.Quote:We will give you the best price within 24 hours
3.Place an order:Confirm the cooperation details and CZPT the contract, and provide the labeling service
4.Processing and customization:Short delivery time
Related products:

Factory:
| | |
| --- | --- |
| Standard Or Nonstandard: | Standard |
| Application: | Motor, Motorcycle, Machinery, Agricultural Machinery, Car |
| Hardness: | Hardened Tooth Surface |
| Manufacturing Method: | Rolling Gear |
| Toothed Portion Shape: | Spur Gear |
| Material: | Stainless Steel |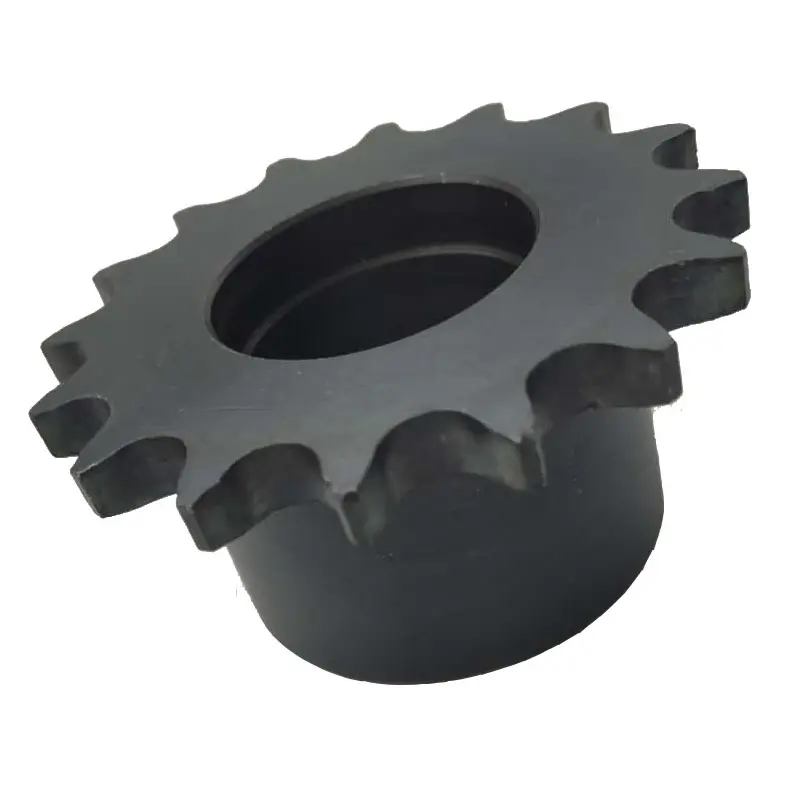 Compatibility of Chain Sprockets with Wheels
In general, chain sprockets are designed to work with specific types of wheels, and there are certain requirements for ensuring proper compatibility:
Chain Size and Pitch: The chain sprocket must match the size and pitch of the chain it is intended to work with. For example, if you have a roller chain with a pitch of 0.625 inches, you need a sprocket with the same pitch to ensure a proper fit.
Number of Teeth: The number of teeth on the sprocket should be compatible with the number of chain links. The chain should mesh smoothly with the sprocket without any binding or skipping.
Tooth Profile: The tooth profile of the sprocket should match the shape of the chain's rollers to ensure smooth engagement and minimize wear.
Shaft Size: The center hole (bore) of the sprocket should match the diameter of the shaft it will be mounted on. Using the correct shaft size ensures a secure fit and prevents wobbling.
Hub Configuration: Some sprockets have hubs, which are extensions on either side of the sprocket. The hub's length and configuration should match the requirements of the specific application.
Material and Strength: Consider the material and strength of the sprocket based on the application's load and environmental conditions. Heavy-duty applications may require sprockets made of robust materials to withstand the forces and stresses.
It's crucial to follow the manufacturer's specifications and guidelines when selecting a chain sprocket for a particular wheel. Mixing incompatible sprockets and wheels can result in premature wear, inefficiencies, and potential safety hazards. If you are unsure about the compatibility, consult with the manufacturer or a knowledgeable expert to ensure you choose the right sprocket for your specific application.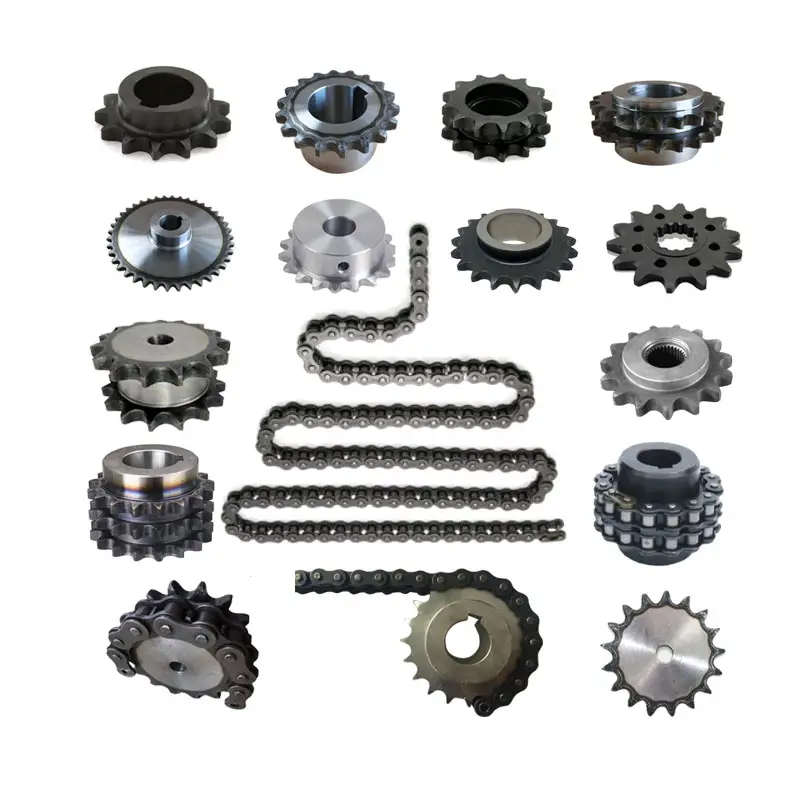 Noise and Vibration in wheel sprocket Configurations
In a wheel sprocket configuration, noise and vibration levels can vary depending on several factors:
Quality of Components: The quality of the wheel sprocket components can significantly impact noise and vibration. Well-manufactured and precisely engineered components tend to produce less noise and vibration.
Lubrication: Proper lubrication of the sprocket teeth and chain or belt can reduce friction, which in turn helps minimize noise and vibration.
Alignment: Correct alignment between the wheel sprocket is crucial. Misalignment can lead to increased noise and vibration as the components may not mesh smoothly.
Tension: Maintaining the appropriate tension in the chain or belt is essential. Insufficient tension can cause the chain to slap against the sprocket teeth, resulting in noise and vibration.
Speed and Load: Higher speeds and heavier loads can lead to increased noise and vibration levels in the system.
Wear and Damage: Worn-out or damaged components can create irregularities in motion, leading to increased noise and vibration.
To reduce noise and vibration in a wheel sprocket setup:
Use high-quality components from reputable suppliers.
Ensure proper lubrication with appropriate lubricants.
Regularly inspect and maintain the system to detect any misalignment, wear, or damage.
Follow manufacturer guidelines for chain or belt tensioning.
Consider using vibration-damping materials or mounting methods if necessary.
Minimizing noise and vibration not only improves the comfort and safety of the machinery but also extends the life of the components by reducing wear and fatigue.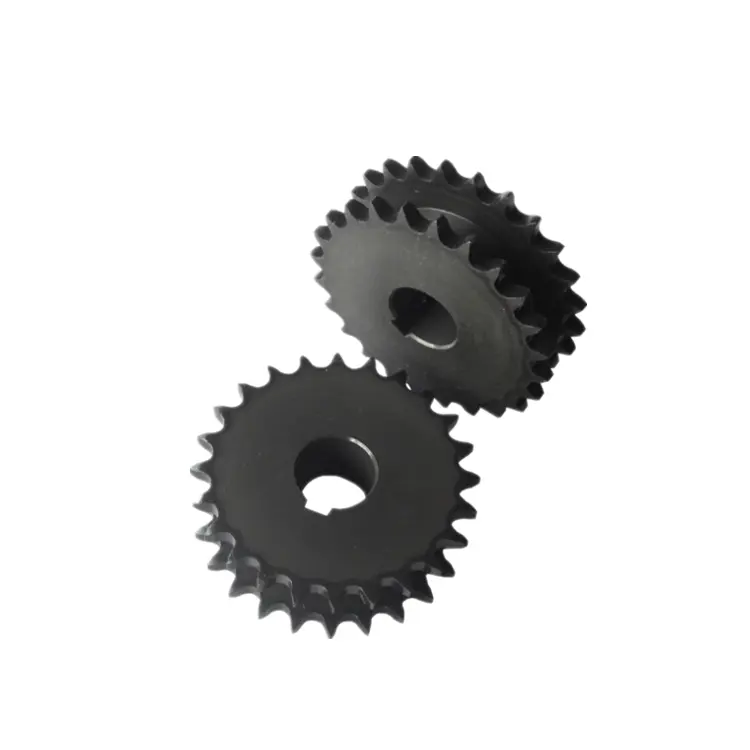 Eco-Friendly Materials for Manufacturing Wheels and Sprockets
Yes, there are eco-friendly materials used for manufacturing wheels and sprockets. As industries strive to reduce their environmental impact and promote sustainability, manufacturers are exploring alternative materials that are more environmentally friendly. Some of the eco-friendly materials used for manufacturing wheels and sprockets include:
1. Recycled Materials:
Using recycled materials, such as recycled plastic or metal, can significantly reduce the demand for virgin raw materials and lower the overall carbon footprint. These materials are obtained from post-consumer or post-industrial waste and processed to create new products, reducing the need for new resource extraction.
2. Biodegradable Materials:
Biodegradable plastics, such as PLA (polylactic acid) and PHA (polyhydroxyalkanoates), are derived from renewable plant sources and can break down naturally in the environment. These materials are gaining popularity for applications where disposal or end-of-life considerations are critical.
3. Sustainable Composites:
Manufacturers are developing sustainable composite materials that combine renewable fibers, such as bamboo, hemp, or flax, with biodegradable resins. These composites offer good strength and rigidity while being more environmentally friendly compared to traditional fiber-reinforced plastics.
4. Natural Materials:
In some cases, natural materials like wood or bamboo are used to create sprockets and wheels for specific applications. These materials are renewable and biodegradable, making them a more sustainable choice.
5. Low-Toxicity Materials:
Some eco-friendly materials focus on reducing the use of harmful chemicals during manufacturing. Low-toxicity materials are not only better for the environment but also for the health and safety of workers involved in the production process.
When selecting eco-friendly materials for wheels and sprockets, it's essential to consider factors such as the specific application, load-bearing requirements, and the material's end-of-life characteristics. Manufacturers and users can contribute to environmental sustainability by opting for these eco-friendly alternatives in their machinery and equipment.



editor by CX 2023-10-30